Money Back Guarantee
At LogoDesignGeek, we do absolutely everything in our power to design a logo that works for YOU and that you will absolutely fall in love with.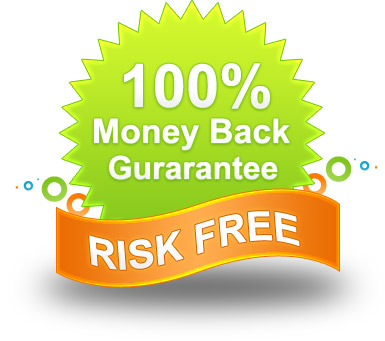 We do this by offering multiple design concepts, unlimited revisions and unparalleled customer service. It is easy for us to offer a money back guarantee. Why? Because we are so confident that we will find a logo design that you will absolutely love!
The 100% money back guarantee gives you peace of mind. If, for whatever reason, LogoDesignGeek has not been able to design a logo that works for you, we will send you a FULL refund and won't charge you any processing fees whatsoever. That's our commitment!
Here's how it works:
If during the design process, you are not happy with the results you are getting, you simply need to advise us and we will keep working on your logo design until you are 100% satisfied.
If you are still unsatisfied with the results and we you are not finding something you like, that's when our money back guarantee comes into effect and you will receive a full refund without any administrative fees deducted. It's that simple.
Although we don't get very many refund requests, there are a few exceptions which you should keep in mind.
In a few rare conditions in which we won't be able to provide you with a refund:
If you have already accepted and approved a logo design concept. Once you have approved a design, we will send you all of the official files and formats. Once this has been sent to you, you are deemed to have accepted the design and a refund cannot be provided.
If you have not communicated with us for more than sixty (60) days, any refunds will be at the discretion of LogoDesignGeek.
If the company for which the logo design was initially created should close or change names, we will not be able to provide a refund.
If you have chosen a package that does not include a money back guarantee, we cannot provide a refund.
Many other logo design companies claim to have a money back guarantee, but their fine print and hidden fees often do not hold them accountable on their promise! At LogoDesignGeek, our policy is simple and straightforward. If you aren't happy during the design process, just notify us and we'll make sure you are taken care of!
In order to protect ourselves, there are just a few things to keep in mind:
If you have received a refund, you are also removing yourself from ownership of the design that was created for you during the design process which means that we may use or show these designs as we may deem fit.
Also, if a customer receives a refund, they have no right to use or copy any basic graphic concepts or other work product, content or media created by LogoDesignGeek, nor do they have any ownership rights to any of those design concepts.
LogoDesignGeek will keep the copyrights to the designs created and the customer may not use our designs even as a reference if a refund has been provided.
Should you have any additional questions regarding our Money Back Guarantee, please feel free to contact us.
LogoDesignGeek – Your #1 source for Logo & Graphic Design at affordable prices.